We caught up with Didy, one of our first funding recipients who was excited to open up her very own fast food business – the first of its kind in her village. Spotting an opportunity, 'Didy's Kitchen' is the first step towards a bright future in catering & hospitality for Didy, who hopes to realise her dream of growing a well-known restaurant and more than simply meeting her families needs with it.
Has opening the business made a difference to your life, how?
The business has made so much difference in my life because I am now my own
boss, it has also broaden my knowledge.
Why did you choose this business to open?
I choose fast food business because I saw there was a need in my village and
because of love for cooking.
Are you struggling less, now you have your own business?
Yes I am struggling less.
What is the best part about being a business owner?
The best part is waking up early knowing the profits are going straight to my
pocket.
How has opening the business helped you and your living situation?
Since covid 19 started it was very hard because there was no income coming in
but then God brought chef.gives into my life and I got equipment to start my small
business, so now I am able to provide for my family.
How has it been since you opened your business?
Opening the business has been fun and very challenging, prices go up every
time and customers expect to find the same prices every time they come to buy.
Are you happy with the way your business is going?
The business is not yet where I want it to be.
What are your next business goals?
My next business goal is to own a well known restaurant.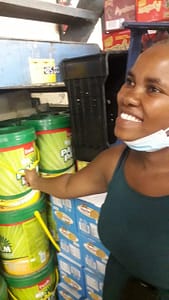 The best part is waking up early knowing the profits are going straight to my pocket.

Didy, Didy's Kitchen – CHEF Funding recipient.